Violations of human and children's rights on European soil
Since 2015, the tent camp "Kara Tepe" for refugees has existed on the Greek island of Lesbos. Following the destruction of the Moria refugee camp by fire, the capacity in Kara Tepe was roughly doubled in the short term to more than 15,000 places. In most cases, two families share a summer tent. The press and lawyers are not allowed into the camp, which is taken care of by the local police. Humanitarian aid is also only allowed in on a very limited scale.
In a Christmas letter to the government representatives of the European states as well as the EU leadership, refugees from the camp write:
"We often read and hear that we have to live like animals in these camps, but we think that is not true. We have studied the laws protecting animals in Europe and we found out that even they have more rights than we do. [...] So we decided to ask you to give us the simple rights that animals have. We would be happy to receive them and we promise you that you will not hear any more complaints from us."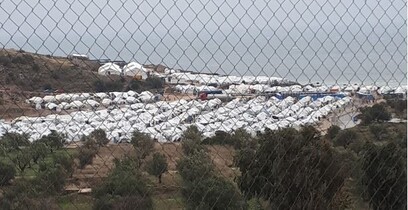 January 2021: Our first mission in Kara Tepe
On January 8, Drin. Ulla Wurm and Drin. Michaela C. Fried, both specialists for child and adolescent psychiatry, flew to Lesbos. After several days of quarantine they were allowed to start their outreach to the people in the Kara Tepe camp.
At the "One Happy Family" site, they can work with children and parents as part of the "Mental Health Kids" program of "Medical Volunteers International", as well as provide specialist supervision and coaching to the teams of the partner organizations on site.
The situation is bleak, and the humanitarian aid promised by European countries has largely failed to materialize. During a call to our headquarters during the mission, Michaela Fried told us: "In the meantime, I tell all the people I see here that many people in Europe are not in agreement with this policy of isolation. And that we are not either, that's why we are here. People are very grateful for such a clear statement!"